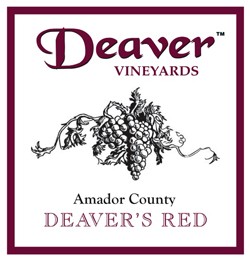 Deaver's Jug - Red Table Wine
The Deaver's Jug is an enjoyable table wine for any occasion. A blend unlike any other; fruit forward, smooth, leaving you wanting more. Put it on your table at a barbeque, take it camping, enter it in a blind taste test (it will be sure to be a top three or a winner), or take it on a picnic. Wherever this jug is, you are sure to enjoy it!
Wine Specs
Appellation
Amador County
---
Product Reviews
Kathy Prendergast

(Nov 2, 2015 at 11:08 AM)
If you haven't tried this wine - buy a jug its the best wine for a group of people - great value!!! I can't wait until they restock.
D. Lipson

(Aug 6, 2016 at 7:29 PM)
This is liquid gold from the Motherlode - don't wait, you'll miss out!