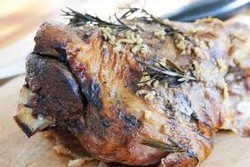 Whole Lamb
One bite of this delicious lamb will leave you wanting more. Born and raised on the Deaver farm, all lambs are free range. Free range lamb means that the lambs are free to roam the pasture. Free range meat is tender and full of delectable flavors.
Cuts include shoulder chops, racks of ribs, lamb chops, boneless roasts, ribs, and hind shanks, each individually packaged. We anticipate lamb being available at the Deaver Tasting Room by April 11th.
Deaver lamb is excellent paired with Deaver wines. We recommend Petite Sirah, Syrah or Zinfandel.
---
Product Reviews