July 15, 2021 | Pairings | Deaver Vineyards
Charcuterie Board for Two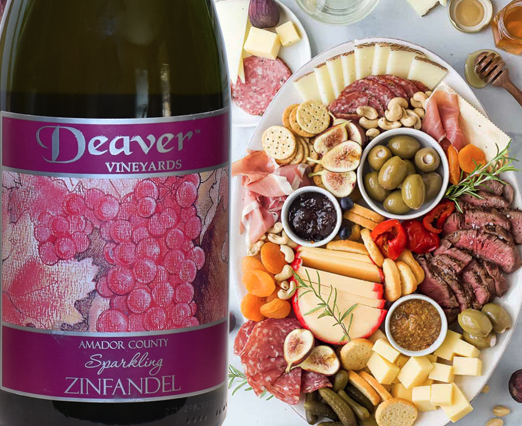 Charcuterie Board for Two
A charcuterie board can be an artful process if you play around with the presentation of the ingredients. It's totally up to you what you put on the board, but primarily you want a nice variety of taste sensations. A beautiful wooden board can make your ingredients look like art. Be sure and photograph it! Pair it with any of our sparkling wines like Sparkling Zinfandel which you can buy here: /Shop/White-and-Almond-Sparkling-Wine. Here at Deaver Vineyards, in our tasting room and gift shop, you will find plenty of charcuterie board condiments to choose from to add that special flavor to your experience. If you make this delicious recipe, please share your experience with us on FACEBOOK.
PREPARE THE INGREDIENTS:
Cheese: Use between 2-3 cheeses. Try Gouda, Manchego, pepper cheese and an Aged White Cheddar Cheese. Chop them in interesting ways like slices, cubes, rectangles, or large shavings.
Meats: Picking the right meats is key, a combo of some salty Proscuitto, spicy Peppered Salami or Soppressata and tender Filet Mignon.
Nuts: Keep it simple and use your favorite nuts like raw cashews, pistachios, pecans, candied pecans or almonds.
Fruits: Adding an element of sweet is so key to a charcuterie board, try apricots, figs, grapes and blueberries.
Jam/Spreads/Condiments: This is where things get fun, pick out whatever fits your fancy. Try Cherry Peppers, Fig Jam, Stone Ground Mustard, Blue Cheese Stuffed Olives, Sweet Petite Pickles and Honey.
Crackers: The "vehicle" to put all your charcuterie goodness on. Try using a combo of wheat crackers, bruschetta toasts, bread sticks or water crackers.
**************
Step 1: Grab your Cheese Board (slate, wooden cheese board, cutting board, plate, etc.)
Step 2: Add your olives, fig jam and mustard to small varying sizes ramekins and place on cheese board.
Step 3: Assemble your cheese (cut and uncut) all over the board.
Step 4: Unwrap the cured meat and place them in various spots on the board. Look at your board and see where it needs a pop of color! Make sure to leave a spot for your filet mignon. Add that to your board last so that it is still warm.
Step 5: Now it's time to add your "vehicles" to the board. Place crackers and toast points on the board; try to make an "s" in between the ramekins from top to bottom.
Step 6: Here's the fun part. Take the fruits, nuts, extras you have and fill in any open spots on the board. Place them anywhere. There is no order to this. Just make the board look super full!
Pro Tip: To really make it pop and come to life add fresh herbs like rosemary or thyme on top of the white cheeses. It will make everything look irresistible.
Comments
Commenting has been turned off.