May 12, 2021 | Pairings | Deaver Vineyards
Chocolate Lava Cakes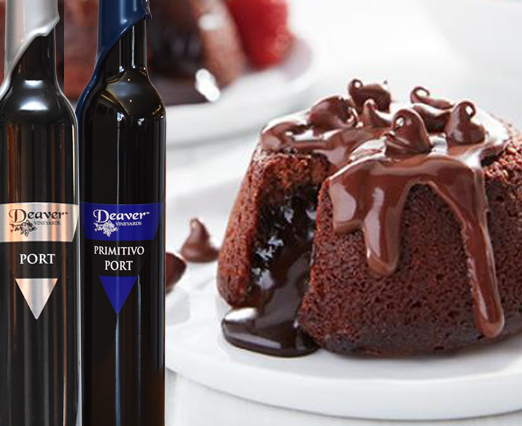 Chocolate Lava Cakes
You can find the recipe online HERE
Level: Easy, Prep: 10 minutes, Cook: 15 minutes, Servings:10 servings
What is it about port wine and desserts (and especially chocolate)? Magic in your mouth is what is going on! Cut into the rich dark chocolate cake to reveal the chocolate sauce center and everyone will agree — there is no better way to start a celebration than with this chocolate lava cake! Pair this with of any of our port wines for a pleasant taste experience! Check them out our Port Selection. If you make this delicious dish, please share your experience with us on FACEBOOK.
INGREDIENTS:
1 tablespoon plus 3/4 cup (1 1/2 sticks) unsalted butter, divided
1-2/3 cups (10-ounce package) Nestlé® Toll House® Dark Chocolate Morsels, divided
2 tablespoons heavy cream
1 1/2 cups granulated sugar, divided
3 large eggs
1 large egg yolk
1 teaspoon vanilla extract
3/4 cup all-purpose flour
1/4 teaspoon salt
Fresh raspberries (optional)
Vanilla ice cream (optional)
Fresh mint sprigs (optional)
Step 1: Preheat oven to 350° F. Grease 10 jumbo muffin cups generously with 1 tablespoon butter.
Step 2: Melt in separate small, microwave-safe bowl, 1/3 cup morsels and heavy cream on HIGH 20 seconds; STIR. If needed, microwave at additional 10-second intervals. Refrigerate to cool. This is the lava batter.
Step 3: Melt remaining 1 1/3 cups morsels and remaining 3/4 cup (1 1/2 sticks) butter in medium, microwave-safe bowl on HIGH 30 seconds; STIR. If needed, microwave at additional 15-second intervals, stirring vigorously after each interval until morsels are melted.
Step 4: Beat sugar, eggs and egg yolk in large mixer bowl for 2 minutes or until well combined and batter is thick and pale colored. Add vanilla extract. Beat in the melted chocolate and butter mixture. Add flour and salt until just combined. Batter will be thick.
Step 5: Divide chocolate batter into each of the prepared cups about 1/3 to 1/2 full. Spoon up the sides to create a divot in the middle. Spoon in level measuring teaspoon of chilled lava mixture into each divot. Then carefully cover with remaining chocolate batter, carefully spreading to edge, if possible. Cups should be 3/4 full- not filled to the top.
Step 6: Bake for 19 to 21 minutes or until centers of cake are level and no longer move. Let sit on wire rack for 5 minutes. Centers will collapse somewhat on cooling.
Step 7: To serve, run a thin knife around edge of cup to loosen. Holding a baking sheet over top of pan, carefully invert onto sheet to release. Carefully transfer to serving plates. Serve warm. If desired, serve with a small scoop of ice cream, fresh raspberries and a sprig of mint.
Comments