Pairings & Recipes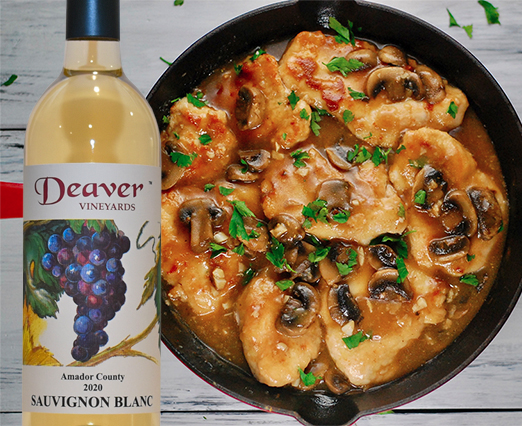 Chicken Marsala
Recipe Credit to: Tyler Florence
You can check this recipe out online here:
Tyler Florence Chicken Marsala Recipe
Level: Easy Total: 40 min Prep: 20 min Cook: 20 min Yield: 4 servings
Who doesn't love Chicken Marsala…no one! Try this yummy recipe next time you want to impress anyone who loves chicken. It's got layers of flavor and easy to make. Pair it with our Sauvignon Blanc to hit the high marks with your family and guests! You can buy it here: Deaver Vineyards Sauvignon Blanc. If you make this delicious dish, please share your experience with us on FACEBOOK.
INGREDIENTS:
4 skinless, boneless, chicken breasts (about 1 1/2 pounds)
All-purpose flour, for dredging
Kosher salt and freshly ground black pepper
1/4 cup extra-virgin olive oil
4 ounces prosciutto, thinly sliced
8 ounces crimini or porcini mushrooms, stemmed and halved
1/2 cup sweet Marsala wine
1/2 cup chicken stock
2 tablespoon unsalted butter
1/4 cup chopped flat-leaf parsley
Step 1: Put the chicken breasts side by side on a cutting board and lay a piece of plastic wrap over them; pound with a flat meat mallet, until they are about 1/4-inch thick. Put some flour in a shallow platter and season with a fair amount of salt and pepper; mix with a fork to distribute evenly.
Step 2: Heat the oil over medium-high flame in a large skillet. When the oil is nice and hot, dredge both sides of the chicken cutlets in the seasoned flour, shaking off the excess. Slip the cutlets into the pan and fry for 5 minutes on each side until golden, turning once – do this in batches if the pieces don't fit comfortably in the pan. Remove the chicken to a large platter in a single layer to keep warm.
Step 3: Lower the heat to medium and add the prosciutto to the drippings in the pan, saute for 1 minute to render out some of the fat. Now, add the mushrooms and saute until they are nicely browned and their moisture has evaporated, about 5 minutes; season with salt and pepper. Pour the Marsala in the pan and boil down for a few seconds to cook out the alcohol. Add the chicken stock and simmer for a minute to reduce the sauce slightly. Stir in the butter and return the chicken to the pan; simmer gently for 1 minute to heat the chicken through. Season with salt and pepper and garnish with chopped parsley before serving.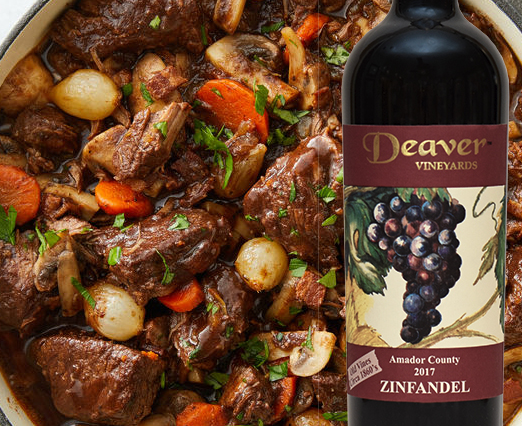 Julia Child's Beef Bourguignon
You can find the recipe online HERE
Prep: 45 minutes, Total: 6 hours, Servings: 4
Ever the classic, this recipe for beef bourguignon will not disappoint! Rick in flavor and meaty as it can get. Pair this with a tasty Deaver red wine like 2018 Signature Zinfandel, and your taste buds will thank you! If you make this delicious dish, please share your experience with us on FACEBOOK.
Ingredients:
6 slices bacon, cut into 1/4 inch strips
3 1/2 tablespoons extra-virgin olive oil
3 pounds stewing beef, cut into 2-inch chunks
1 large carrot, sliced
1 large white onion, sliced
1/2 teaspoon coarse salt
1/4 teaspoon freshly ground black pepper
2 tablespoons all-purpose flour
3 cups red wine, like a chianti
2 1/2 to 3 1/2 cups beef stock
1 tablespoon tomato paste
2 cloves smashed garlic
1/2 teaspoon thyme
1 crumbled bay leaf
18 to 24 small pearl onions
3 1/2 tablespoons butter
1 herb bouquet (4 sprigs parsley, 2 sprigs thyme, 1 bay leaf)
1 pound fresh white mushrooms, quartered
STEPS:
Step 1: Simmer bacon strips in 4 cups water for 10 minutes. Drain and pat dry.
Step 2: Preheat oven to 450°F. In a large Dutch oven, sauté the bacon in 1 tablespoon of oil for about 3 minutes, until it starts to lightly brown. Remove with a slotted spoon and set aside.
Step 3: Dry the beef with a few paper towels for better browning. In batches, sear the beef on all sides in the Dutch oven. Set aside with the bacon.
Step 4: Back in the pot, add the sliced carrots and onions; sauté in fat until browned, about 3 minutes. If there's any excess fat, drain it now.
Step 5: Add the bacon and beef back to the pot. Season with salt and pepper. Toss. Sprinkle with flour and toss once more. Place in the center of the oven for 4 minutes.
Step 6: Remove pot from oven; toss beef and place back in the oven for 4 more minutes. Remove the pot from the oven and reduce the heat to 325°F.
Step 7: To the pot, add the wine and stock. The liquid should barely cover the meat and vegetables. Add the tomato paste, garlic and thyme. Bring to a light simmer on the stove, then cover and simmer in the lower part of the oven for 3 to 4 hours, or until the meat is easily pierced.
Step 8: In the last hour of cooking, bring 1 1/2 tablespoons butter and 2 teaspoons oil to a medium heat in a sauté pan. Add the pearl onions and toss around in the fat until they've browned, 10 minutes. Then stir in 1/2 cup beef stock, a small pinch of salt and pepper and the herb bouquet. Reduce the heat to low and simmer the onions for about 40 minutes, until the liquid has evaporated, and the onions are tender.
Step 9: Remove the onions and set aside. Discard the herb bouquet and wipe out the skillet. Add the remaining butter and oil and bring to a medium heat.
Step 10: Add the mushrooms and cook for about 5 minutes, shaking the pan to coat with the butter.
Step 11: Place a colander over a large pot. Drain the beef stew through the colander and into the pot. Place the pot with the sauce over a medium heat and simmer for about 5 minutes, skimming any fat on top. Pour the beef and vegetables back into the Dutch oven. Add the pearl onions and mushrooms to the pot. Pour the sauce over the beef mix and simmer an additional 3 to 5 minutes.
Tips: No need to break the bank with lean, pricey meat. The lower heat and slower cook time will break down tougher cuts of beef resulting in fork-tender meat. Don't skip out on searing the beef before adding it to the stew. This step is crucial to the rich, deep beef flavor you crave. Don't rush this already quick-cooking beef bourguignon recipe. If the meat isn't given enough time to simmer, your beef could turn out tough and chewy. Save the remaining tomato paste by scooping it in tablespoon increments on a parchment paper-lined cookie sheet and freezing. Once frozen, toss them in a resealable food-storage plastic freezer bag in the freezer; use within three months. Beef bourguignon is best served on a bed of carb-heavy starches, such as potatoes, rice or noodles. Garnish with parsley if desired.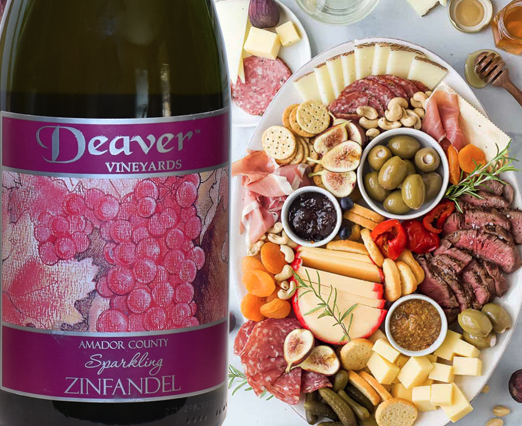 Charcuterie Board for Two
A charcuterie board can be an artful process if you play around with the presentation of the ingredients. It's totally up to you what you put on the board, but primarily you want a nice variety of taste sensations. A beautiful wooden board can make your ingredients look like art. Be sure and photograph it! Pair it with any of our sparkling wines like Sparkling Zinfandel which you can buy here: /Shop/White-and-Almond-Sparkling-Wine. Here at Deaver Vineyards, in our tasting room and gift shop, you will find plenty of charcuterie board condiments to choose from to add that special flavor to your experience. If you make this delicious recipe, please share your experience with us on FACEBOOK.
PREPARE THE INGREDIENTS:
Cheese: Use between 2-3 cheeses. Try Gouda, Manchego, pepper cheese and an Aged White Cheddar Cheese. Chop them in interesting ways like slices, cubes, rectangles, or large shavings.
Meats: Picking the right meats is key, a combo of some salty Proscuitto, spicy Peppered Salami or Soppressata and tender Filet Mignon.
Nuts: Keep it simple and use your favorite nuts like raw cashews, pistachios, pecans, candied pecans or almonds.
Fruits: Adding an element of sweet is so key to a charcuterie board, try apricots, figs, grapes and blueberries.
Jam/Spreads/Condiments: This is where things get fun, pick out whatever fits your fancy. Try Cherry Peppers, Fig Jam, Stone Ground Mustard, Blue Cheese Stuffed Olives, Sweet Petite Pickles and Honey.
Crackers: The "vehicle" to put all your charcuterie goodness on. Try using a combo of wheat crackers, bruschetta toasts, bread sticks or water crackers.
**************
Step 1: Grab your Cheese Board (slate, wooden cheese board, cutting board, plate, etc.)
Step 2: Add your olives, fig jam and mustard to small varying sizes ramekins and place on cheese board.
Step 3: Assemble your cheese (cut and uncut) all over the board.
Step 4: Unwrap the cured meat and place them in various spots on the board. Look at your board and see where it needs a pop of color! Make sure to leave a spot for your filet mignon. Add that to your board last so that it is still warm.
Step 5: Now it's time to add your "vehicles" to the board. Place crackers and toast points on the board; try to make an "s" in between the ramekins from top to bottom.
Step 6: Here's the fun part. Take the fruits, nuts, extras you have and fill in any open spots on the board. Place them anywhere. There is no order to this. Just make the board look super full!
Pro Tip: To really make it pop and come to life add fresh herbs like rosemary or thyme on top of the white cheeses. It will make everything look irresistible.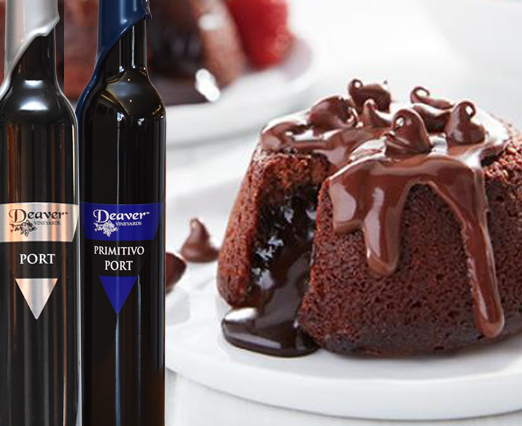 Chocolate Lava Cakes
You can find the recipe online HERE
Level: Easy, Prep: 10 minutes, Cook: 15 minutes, Servings:10 servings
What is it about port wine and desserts (and especially chocolate)? Magic in your mouth is what is going on! Cut into the rich dark chocolate cake to reveal the chocolate sauce center and everyone will agree — there is no better way to start a celebration than with this chocolate lava cake! Pair this with of any of our port wines for a pleasant taste experience! Check them out our Port Selection. If you make this delicious dish, please share your experience with us on FACEBOOK.
INGREDIENTS:
1 tablespoon plus 3/4 cup (1 1/2 sticks) unsalted butter, divided
1-2/3 cups (10-ounce package) Nestlé® Toll House® Dark Chocolate Morsels, divided
2 tablespoons heavy cream
1 1/2 cups granulated sugar, divided
3 large eggs
1 large egg yolk
1 teaspoon vanilla extract
3/4 cup all-purpose flour
1/4 teaspoon salt
Fresh raspberries (optional)
Vanilla ice cream (optional)
Fresh mint sprigs (optional)
Step 1: Preheat oven to 350° F. Grease 10 jumbo muffin cups generously with 1 tablespoon butter.
Step 2: Melt in separate small, microwave-safe bowl, 1/3 cup morsels and heavy cream on HIGH 20 seconds; STIR. If needed, microwave at additional 10-second intervals. Refrigerate to cool. This is the lava batter.
Step 3: Melt remaining 1 1/3 cups morsels and remaining 3/4 cup (1 1/2 sticks) butter in medium, microwave-safe bowl on HIGH 30 seconds; STIR. If needed, microwave at additional 15-second intervals, stirring vigorously after each interval until morsels are melted.
Step 4: Beat sugar, eggs and egg yolk in large mixer bowl for 2 minutes or until well combined and batter is thick and pale colored. Add vanilla extract. Beat in the melted chocolate and butter mixture. Add flour and salt until just combined. Batter will be thick.
Step 5: Divide chocolate batter into each of the prepared cups about 1/3 to 1/2 full. Spoon up the sides to create a divot in the middle. Spoon in level measuring teaspoon of chilled lava mixture into each divot. Then carefully cover with remaining chocolate batter, carefully spreading to edge, if possible. Cups should be 3/4 full- not filled to the top.
Step 6: Bake for 19 to 21 minutes or until centers of cake are level and no longer move. Let sit on wire rack for 5 minutes. Centers will collapse somewhat on cooling.
Step 7: To serve, run a thin knife around edge of cup to loosen. Holding a baking sheet over top of pan, carefully invert onto sheet to release. Carefully transfer to serving plates. Serve warm. If desired, serve with a small scoop of ice cream, fresh raspberries and a sprig of mint.